Hi all!
Bruno and I have taken off for a quick trip to see my family on the gold coast. We have had some stunning weather so far, I'm sure much warmer than Melbourne.
Here is our view from my mums place where we are staying.
It is a stunning resort.
Here is Bruno making the most of it.
But I can't leave you without a card to hopefully inspire you.
This is using the autumn spice specialty paper. I have some smaller 6"x6" packs of this paper available all the time for $5. Includes 12 double sided sheets.
I have used the gorgeous new punch from the autumn winter mini for the sentiment. I even decorated inside!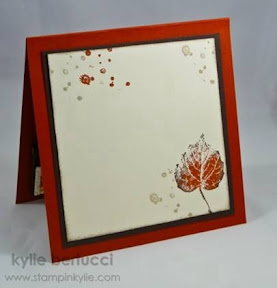 So there you have it girls. Even got to post while on holiday.
Will be back soon.
Remember I hold classes every thursday night. It is necessary to book in advance as most classes are full each week.
Thanks!!
Kylie